SuperHD Ultimate Fat Burner
30% off + free shipping! With any subscription
Skip to product information
View accessibility statement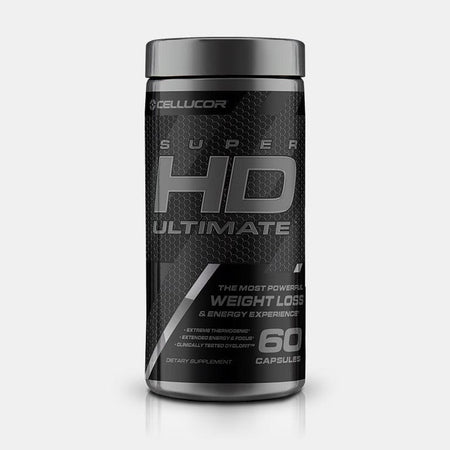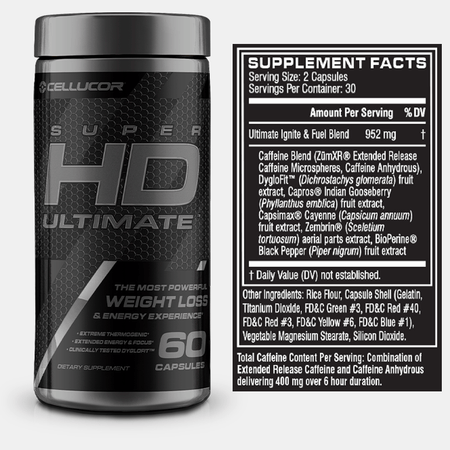 SuperHD Ultimate Fat Burner
SuperHD Ultimate Fat Burner
30% off + free shipping! With any subscription
Reveal your best physique with the Ultimate High Definition formula for, energy, fat burning, and next level focus. Learn more
Ultimate High Definition Fat Burning
Ultimate High Definition Energy
Ultimate High Definition Physique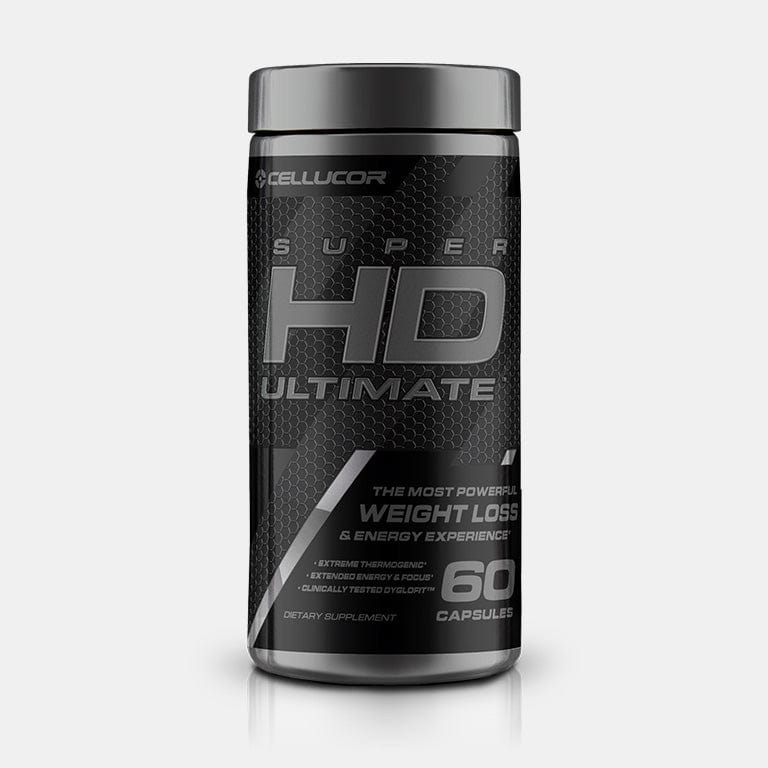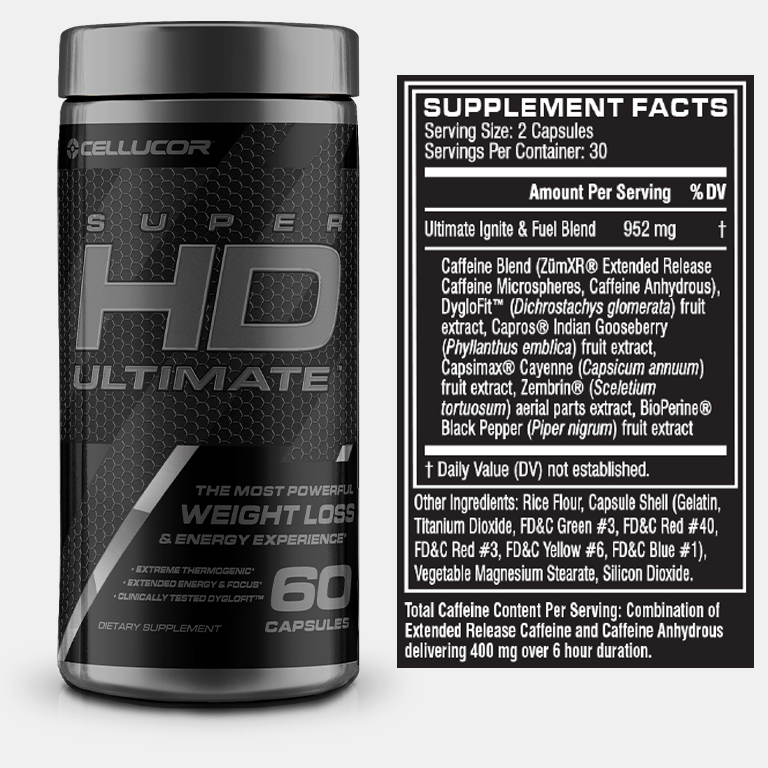 Ultimate High-Definition Fat Burning
Ultimate High-Definition Energy
Ultimate High-Definition FocusFocus
Ultimate High-Definition Physique
Product Overview
SuperHD Ultimate™ is an extreme thermogenic – combining leading ingredients such as ZümXR® Extended Release Caffeine Microspheres along with clinically tested DygloFit™, Capros®, and Capsimax® Cayenne.
At 400mg of total Caffeine per serving, using a combination of fast-acting and extended release Caffeine technology, SuperHD Ultimate™ is the most powerful weight loss and energy experience.
ULTIMATE HIGH DEFINITION FAT BURNING — Legendary metabolism and thermogenic matrix featuring the clinically studied Capsimax cayenne and DygloFit fruit extract
ULTIMATE HIGH DEFINITION ENERGY — Ignite your shredding journey with 400mg of dual-source caffeine for quick hitting and time released energy.
ULTIMATE HIGH DEFINITION FOCUS — Laser focus, cognitive and mood support from Zembrin.
ULTIMATE HIGH DEFINITION PHYSIQUE — Look and feel your best with nitric oxide support from the clinically studied antioxidant Capros.
Use
Take one serving (2 capsules) with breakfast or lunch. Do not take this product within 6 hours of bedtime. For best results, use for 8 weeks in combination with diet and exercise. USE ONLY AS DIRECTED.
Warning
THIS PRODUCT IS ONLY INTENDED TO BE CONSUMED BY HEALTHY ADULTS, 18 YEARS OF AGE OR OLDER. Do not use this product if you are pregnant or nursing. Before using this product, consult a licensed, qualified, health care professional, including but not limited to, if: you are taking antidepressants such as a MAOI (Monoamine Oxidase Inhibitor) or SSRI, blood thinners, nonsteroidal anti-inflammatory drugs, pseudoephedrine, or you are taking any other dietary supplement, prescription drug or over-the-counter medication; or if, you suspect you have or have been treated for, diagnosed with or have a family history of, any medical condition, including but not limited to: high or low blood pressure, diabetes, anxiety, cardiovascular, psychiatric or seizure disorders, cardiac arrhythmia, stroke, heart, liver, kidney or thyroid disease, or difficulty urinating due to prostate enlargement. This product contains caffeine and should not be used by individuals wishing to eliminate caffeine from their diet or in combination with caffeine or stimulants from other sources, including but not limited to, coffee, tea, soda, or other dietary supplements and medications. Discontinue use 2 weeks prior to surgery. Immediately discontinue use and contact a medical doctor if you experience any adverse reaction to this product. Do not use if safety seal is broken or missing. Store in a cool dry place. KEEP OUT OF REACH OF CHILDREN.
"If you are looking to shed a few pounds this winter or summer. I highly recommend this product."